ECD Rebel Graphene Lacrosse Head
December 31, 2018
The ECD Lacrosse Rebel Graphene is the first release from ECD's new Project Beta. Project Beta is ECD's way to try out new technologies and ideas to help improve their products.  This is a great opportunity for them to make limited runs of unique lacrosse gear and get feedback from real players.
The first technology they are implementing is Graphene in the best selling Rebel Offense and Defense Lacrosse Head. Graphene is a remarkable new material that is one of the lightest and strongest materials on earth. It has been talked about in the science community as the material of the future.
Learn More About The Improvements In The Rebel Graphene from @ECDGREG
These Lacrosse Heads are super limited and laser etched with each number so you know which one you received. The Rebel Offense is 1 of 1000 and the Rebel Defense is 1 of 500 so be sure to grab yours at Lax.com before they sell out!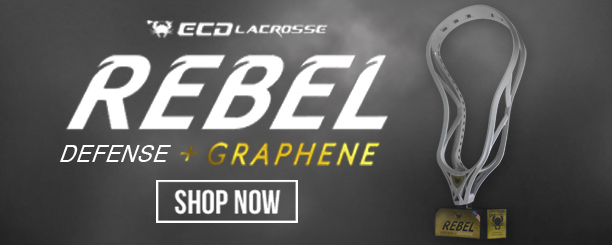 See Our Lax.com Pros Testing Out The New ECD Rebel Graphene


To Receive More Great Lacrosse Content And Get Exclusive Deals,
Enter Our Mailing List:


If you have any questions about which lacrosse head is right for you or your player, give one of our collegiate Pro's a call at 855-255-5294.
See you on the fields!
The Lax.com Pro Staff
855-255-5294
questions@lax.com
LAX.com – Where Players Get Their Gear
Free Shipping On All Orders Over $50
Lowest Prices – Guaranteed